The Journey of Giving at Dr. Reddy's
"Everyone has a purpose in life and a unique talent to give to others. And when we blend this unique talent with service to others, we experience the ecstasy and exultation of our own spirit, which is the ultimate goal of all goals." Dr. K Anji Reddy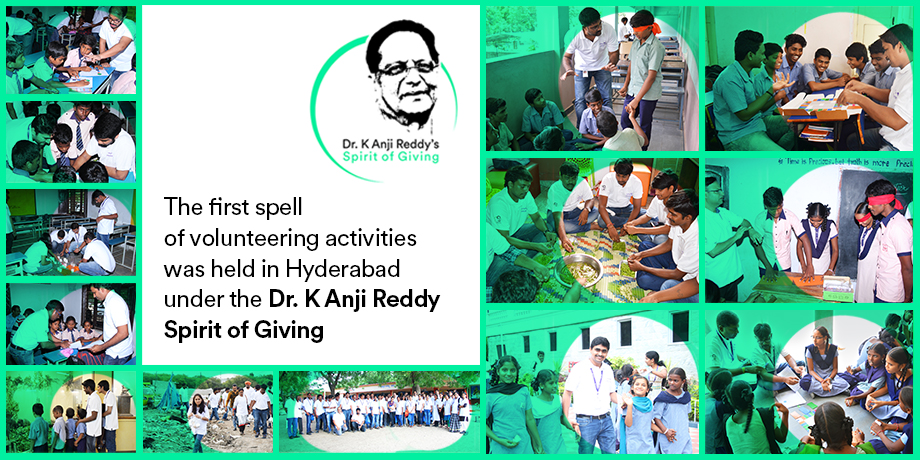 Long before the term CSR came into being, Dr. Reddy's was actively giving back to the community in various ways driven by the philanthropic zeal of our founder. Dr. Anji Reddy wanted to make an enduring difference to people's lives. He believed that all people needed were opportunities and a supportive environment. Today we pay tribute to his memory through the Dr. K Anji Reddy's Spirit of Giving, under which employees across the world participate in volunteering activities.
The first spell of activities under the Dr. K Anji Reddy Spirit of Giving 2017 saw employees engaged in projects to enhance education in Government schools and to provide nutritious meals to the poor. Here is a brief report:
Madinaguda Government School students tour Salar Jung Museum
52 employees gave 140 students of the Madinaguda Government School a welcome break from the monotony of classroom learning by taking them on a tour of the Salar Jung Museum in Hyderabad. The volunteers brought history alive for the students by explaining the significance of the historical artifacts and memorabilia on display.
"It was fun teaching and learning, a joyful experience."
N Sheetal Anand, Regulatory Affairs
Helping school students overcome Math anxiety
70 employees helped 6th and 7th grade students of three SIP schools to get comfortable with Mathematics through hands on activities. Using a treasure hunt, they helped the children understand fundamental concepts in probability, simple division, mental maths, geometry and fractions.
"It was an exciting as well as challenging task - understanding the mindset of students and making them comfortable with us. I really learnt a lot from their behavior and questions."
Vikas Mongia, SCM
Enhancing communication skills of students
35 volunteers visited SIP schools to help children of the 8th and 9th grades improve their Observation, Communication and Listening Skills , Attention to detail and Empathy in Communication, by making them play a simple game. With eyes blindfolded and hands tied, children had to verbally instruct their teammates to build a structure similar to a prototype shown to them earlier. The volunteers then explained the importance of proper communication in daily life.
Helping students acquire financial literacy
30 volunteers from Dr. Reddy's visited 3 SIP schools - ZPHS Chetlapotaram, ZPHS Pragati Nagar and Telangana State Model School to inculcate financial literacy among students of the 10th grade. Using a simple board game, they helped students grasp concepts like savings, taxation, investments and distinguishing between needs and wants.
Hunger Heroes – Food Distribution Drive with Youngistaan Foundation
35 volunteers participated in Hunger Heroes, a food distribution drive organized by Youngistaan Foundation. They assisted in preparing and packing the food, and distributing food packets in Niloufer Hospital and the slum at Hi-Tech City.
"Experiences like these remind you of your duties towards society."
Pirthi Pal Singh, CPS Formulations