Can better packaging improve compliance? We believe it does.
Redesigning Packaging for Patient Convenience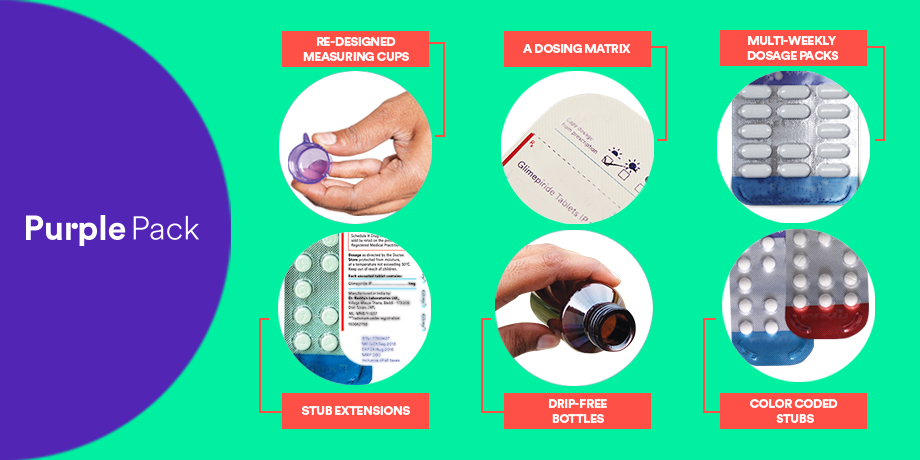 Through our Purple Health initiative, we are driving a significant cultural change within the organization of taking care beyond the pill. This is a shift from a product-driven approach to a patient-centric one, where every brand touch point is potentially a start button to Good Health.  And the only way we can do this is, to not stop at just making world-class medicine, but to go a few steps further and take care beyond the pill. With an objective to meet unmet patient needs, we aim to facilitate good health by going beyond the pill and offering a holistic product experience. We continuously engage with patients to understand their unfulfilled and unstated needs. Drawing from these rich insights, we innovate and enhance our products.
Some such patient-centric interventions on products and packaging which we have undertaken are:
 Redesigning Packaging for Patient Convenience
 We partnered with IDEO, the global design and innovation consulting firm, and applied a 'Human-Centred Design' approach to finding solutions. We interviewed a cross-section of patients, doctors and pharmacists across the country. In our research, we found that patients often forget to take their prescribed drug, or sometimes the dosage information is not visible on the packaging once the patient has started taking a particular medicine. This leads to interruption of the treatment cycle and could impact cure or management. Keeping patient conveniences and priorities in mind, we introduced innovative blister packaging for few of our brands in the Indian market.
 The new packaging offers patients the following advantages:
 STUB EXTENSIONS on which the brand name, expiry date, and MRP are printed, so they can be read even if the patient consumes all the pills from the pack.
 A DOSING MATRIX which allows the doctor's prescription to be recorded on the pack itself, so that there is no need to refer to the prescription for the exact dosing.
 BI-MONTHLY DOSAGE PACKS with 14 pills so that patients can move from a monthly to weekly (or fortnightly) buying and consumption pattern, which is easier to adhere to.
 COLORCODED STUBS for different strengths so both chemists and patients can easily identify the right dosage.
 DRIP-FREE BOTTLES ensure that syrups don't leave sticky deposits on the sides and necks of bottles while being poured. With clean necks, the aluminium caps can be easily closed.
 RE-DESIGNED MEASURING CUPS are sturdy, convenient to hold, and have wider lips and slightly rounded bottoms, so that they're easier to clean.
 Once the designs were tested and validated with patients, it moved to the manufacturing plants for implementation. It wasn't easy. We found that the new packs had a higher production cost and that many of the machine parts and molds required didn't exist. We had to work with vendors to custom-build them to the new requirements. Moreover, the new parts had to be implemented across multiple internal and partner manufacturing sites to achieve the necessary scale. Over the course of two years we invested close to INR 7 crore, collaborated with over ten partners, and undertook a major change management exercise to get the new packaging systems in place.
But all the cost and effort has been worth it. We've received an overwhelmingly positive response from doctors, patients, chemists, and the healthcare industry. Purple Packs are being made available on 25 of our brands, with a net worth of INR 250 crore. These innovative packs are reaching out to nearly 75,000 doctors and over 2 crore patients across the country.
 As we have often discovered in our efforts, it's the little things that make a big difference to how patients feel about the way their care needs are met.